2019 Audi e-tron, fully electric car, SUV built for everyday use.
The 2019 Audi e-tron – the first electric model from the premium brand is a mid-size SUV, with a range of 204 m/328 km in everyday use. Fully electric e-tron is the right size, in the right segment, with the right tech and right ecosystem for all customers willing to go electric today. Audi e-tron battery designed for performance, longevity and peak charging power has the fastest charging in its class - it's capable of charging at speeds of up to 150kW. The E-tron's range numbers are unfortunate for Audi when compared with the currently available competition, it may because real-world testing can't always be readily duplicated by researchers and manufacturers. Electric vehicle range determined mostly by batteries and vehicle weight, e-tron is effectively using only 88% of its peak capacity to preserve the lithium-ion batteries for longer life.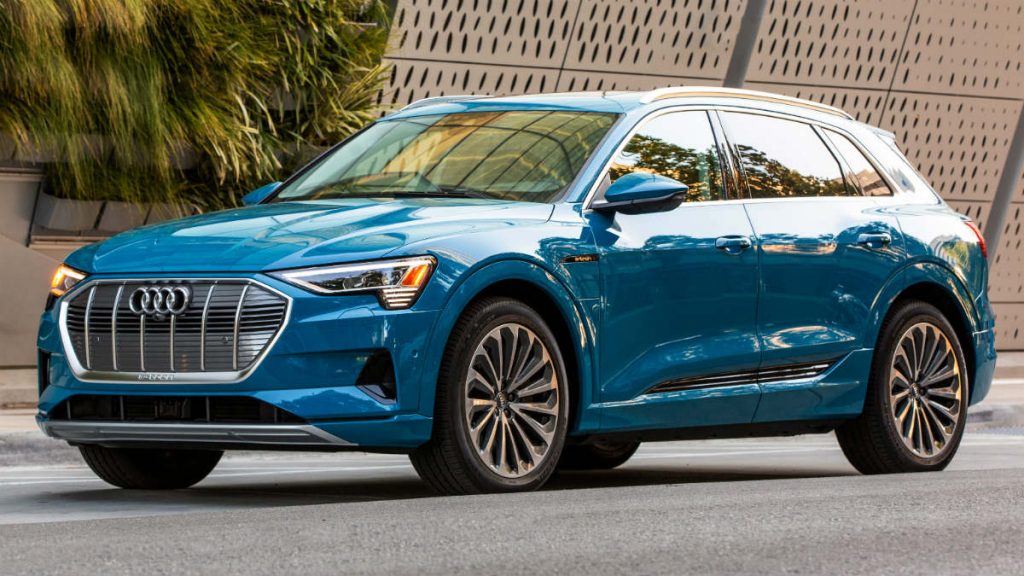 The right size, similar in size to the Audi Q8, comfortable for five adults and luggage, with a panoramic sunroof, the Audi e-tron is a typical mid-sized SUV, it has an additional front trunk for Level 2 charging system. For true SUV functionality, the e-tron can be equipped with an available towing package and features standard air suspension and roof rails. The e-tron's most impressive technology is its electrified drivetrain but also has a tech-laden cabin and numerous driver-assistance features. Its dashboard is packed with multiple high-resolution screens that include Audi's Virtual Cockpit.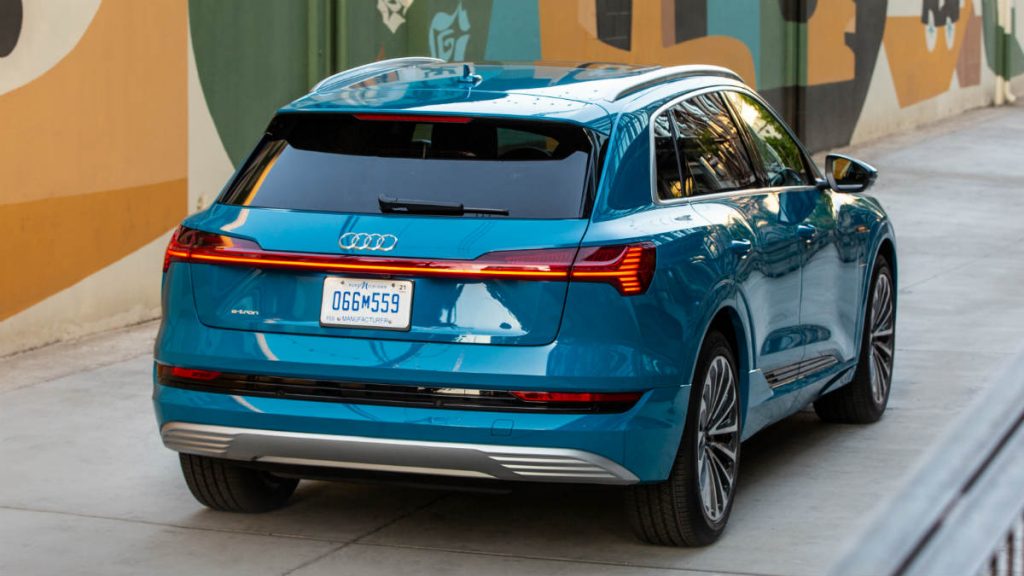 The fully electric mid-size luxury SUV delivers premium features and everyday usability and provides the fit and finish that luxury buyers expect. Audi e-tron features standard heated/cooled seats, top view camera, distinctive badging and all-new ergonomically designed shifter, in addition to available massaging seats, night vision assistant and a full suite of standard and available driver assistance systems. New standard-equipped electric quattro® all-wheel drive helps provide exceptional control and confidence in a variety of driving conditions. With an electric motor placed on both e-tron axles, power is efficiently distributed to provide nearly instantaneous torque and powerful electric performance.

Revolutionary electric engineering without compromise, with buyers of premium vehicles driving an average of about 15% of e-trons range per day, the car is designed for daily usability. Top of class charging speed translates to 54 miles in 10 minutes or 163miles in 30 minutes. Powering the e-tron battery is a precisely developed, positioned low in the vehicle within a protective honeycomb structure. E-tron utilizes at maximum 88 percent or 83.6 kWh, of the 95 kWh total capacity, that's the price for battery longevity. A revolutionary cooling system separates the battery modules from cooling fluid to maintain optimal efficiency and enhance performance for the long-term. The e-tron achieves 355 horsepower, and with Boost Mode engaged – unlocking the full power output of the vehicle – achieves an increased 402 horsepower, reaching 0-60 in 5.5 seconds.

Unique to the e-tron, the MMI touch response® system features a detailed map displaying where drivers can travel on the vehicle's current charge; and, for longer trips, the MMI system suggests charging stations along the route, noting the anticipated charge level upon arrival, resulting in increased range tranquility. Drivers can select the e-tron-specific virtual cockpit display, providing detailed charging, battery, route and infotainment information in the driver's line of sight directly behind the steering wheel. Amazon Alexa is fully integrated into the e-tron, and, when combined with an active Audi connect PRIME subscription, enables virtually seamless access to news, information, music, audiobooks and control of Alexa-enabled devices directly from the e-tron steering wheel. The e-tron enables pioneering vehicle-to-infrastructure technology including Traffic Light Information (TLI) and Green Light Optimized Speed Advisory (GLOSA) were available and is the first Audi model to feature standard Toll Module Integration, eliminating the need for state-specifics transponders. One of the benefits of electric vehicle ownership is the ability to wake up each day with a freshly charged vehicle. Understanding that more than 80 percent of charging takes place at home, Audi and Amazon Home Services collaborated to provide in-home installation of a Level 2 charging system, comprised of a 240 volt, NEMA 14-50 outlet, enabling the e-tron to be completely charged in approximately nine hours.